The Covert mission: Plutonium source might be Canada
by IAN MACLEOD [Ottawa Citizen].

According to Tom Clements, a nuclear materials expert and adviser to the South Carolina Chapter of the Sierra Club, says without a firm "disposition pathway" for the civilian MOX and separated plutonium arriving from foreign nations, local residents fear the Savannah River Site will be left "holding the plutonium bag. Ottawa Citizen reported in March 30.

The nuclear fuel carrier Pacific Egret slipped into the harbour at Charleston, South Carolina, on March 19 and unloaded a top-secret cargo at the port's Naval Weapons Station.

Fitted with naval guns, cannons and extensive hidden means of repelling a terrorist assault, the three-year-old British vessel was purpose-built to transport plutonium, highly enriched uranium (HEU) and mixed-oxide (MOX) nuclear fuel on the high seas.

Its previous publicly reported position had been exiting the Mediterranean at the Strait of Gibraltar almost two weeks earlier on March 7, carrying a delicate nuclear cargo loaded at the La Spezia naval base in northern Italy.

As the vessel entered the North Atlantic that day, its tracking image vanished from an online marine traffic monitoring system. The ship the size of a football field became all but invisible to unauthorized eyes.

Questions are now being raised about whether the sensitive cargo included recycled plutonium that originated here in Canada.

The clandestine business of transporting shiploads of fissile nuclear materials between nations rarely comes into public view. An eight-kilogram piece of plutonium-239 the size of a grapefruit could obliterate much of Ottawa in seconds — as it did to Nagasaki in August 1945. It's aptly named after the ancient Greek god of the underworld.

Five days after the Pacific Egret docked in Charleston, 58 world leaders, Prime Minister Stephen Harper among them, gathered in The Hague for this past week's 2014 Nuclear Security Summit.

The purpose of the biennial meeting is to secure the vast global inventory of vulnerable nuclear materials. Restricting plutonium was this year's unofficial theme.

And it wasn't long before the reason for the Pacific Egret's covert missions surfaced.

Italy announced the successful removal to the U.S. of 17 kilograms of plutonium and HEU to the Department of Energy's Savannah River Site nuclear waste complex near Aiken, S.C., a two-hour drive from Charleston.

A similar statement followed from Belgium, where the Pacific Egret loaded plutonium and HEU destined for Savannah in late January. Japan, another of the ship's regular ports of call, said it would cede control to the U.S. of more than 300 kilograms of plutonium and 200 kg of HEU, enough to build about 40 nuclear warheads.

It's believed that separated plutonium and HEU have been totally removed from 12 countries since U.S. President Barack Obama initiated the summits in 2010. In all, almost 3,000 kilograms of weapons-grade fissile materials have been removed or disposed of from 27 countries.

Yet there remains an estimated 490 tonnes of plutonium around the world for military and civilian use, plus approximately 1,250 tonnes of HEU, enough for more than 55,000 basic atomic bombs.

As a non-weapons state, Canada does not manufacturer HEU or reprocess spent reactor fuel to extract and recycle plutonium — a byproduct of nuclear fission. (In a conventional nuclear reactor, one kilogram of recycled plutonium-239 can produce sufficient heat to generate nearly 10 million kilowatt-hours of electricity. The downside is the risk of theft and nuclear proliferation.)

Instead, Canada imports small amounts of HEU from the U.S. as fuel for some research reactors — CANDU power reactors run on natural uranium — and for medical isotope production.

Read more here:
www.ottawacitizen.com/news/Covert+mission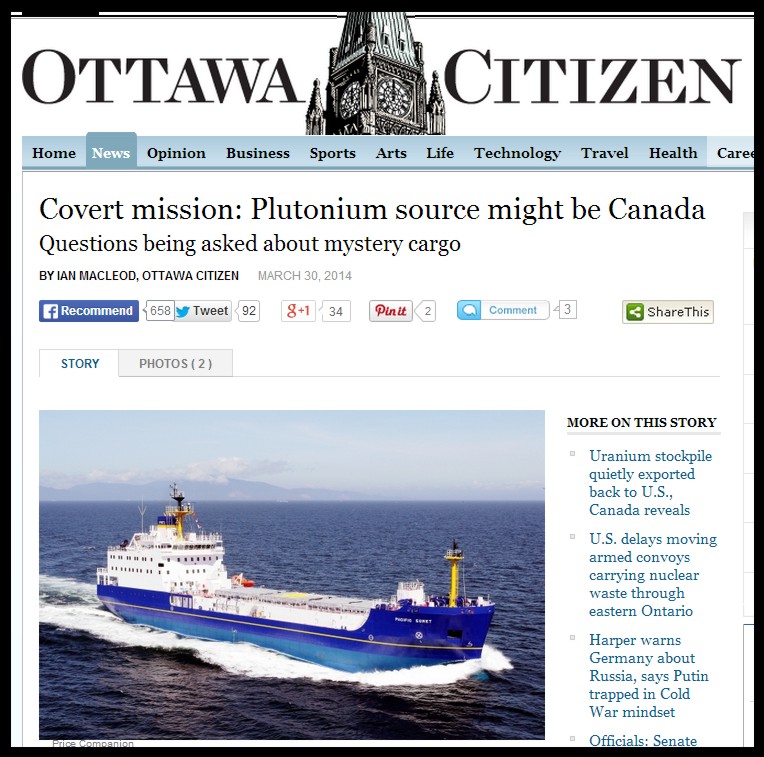 On board of the "cargo" there would be "approximately" 20 kilograms of hazardous radioactive materials, highly enriched uranium and plutonium, coming from the Sogin nuclear deposits and loaded in the Military port of La Spezia.

Sources from newspapers and TV-Media here:
✔ http://www.tgcom24.mediaset.it/cronaca/2014/notizia/la-spezia-svelato-il-giallo-della-nave-era-carica-di-uranio-e-plutonio_2035524.shtml (private berlusconi's TV...)

✔ http://www.ligurianotizie.it/la-nave-con-materiale-radiottativo-ricompare-port-wentworth/2014/03/25/121114/ [Regional Press].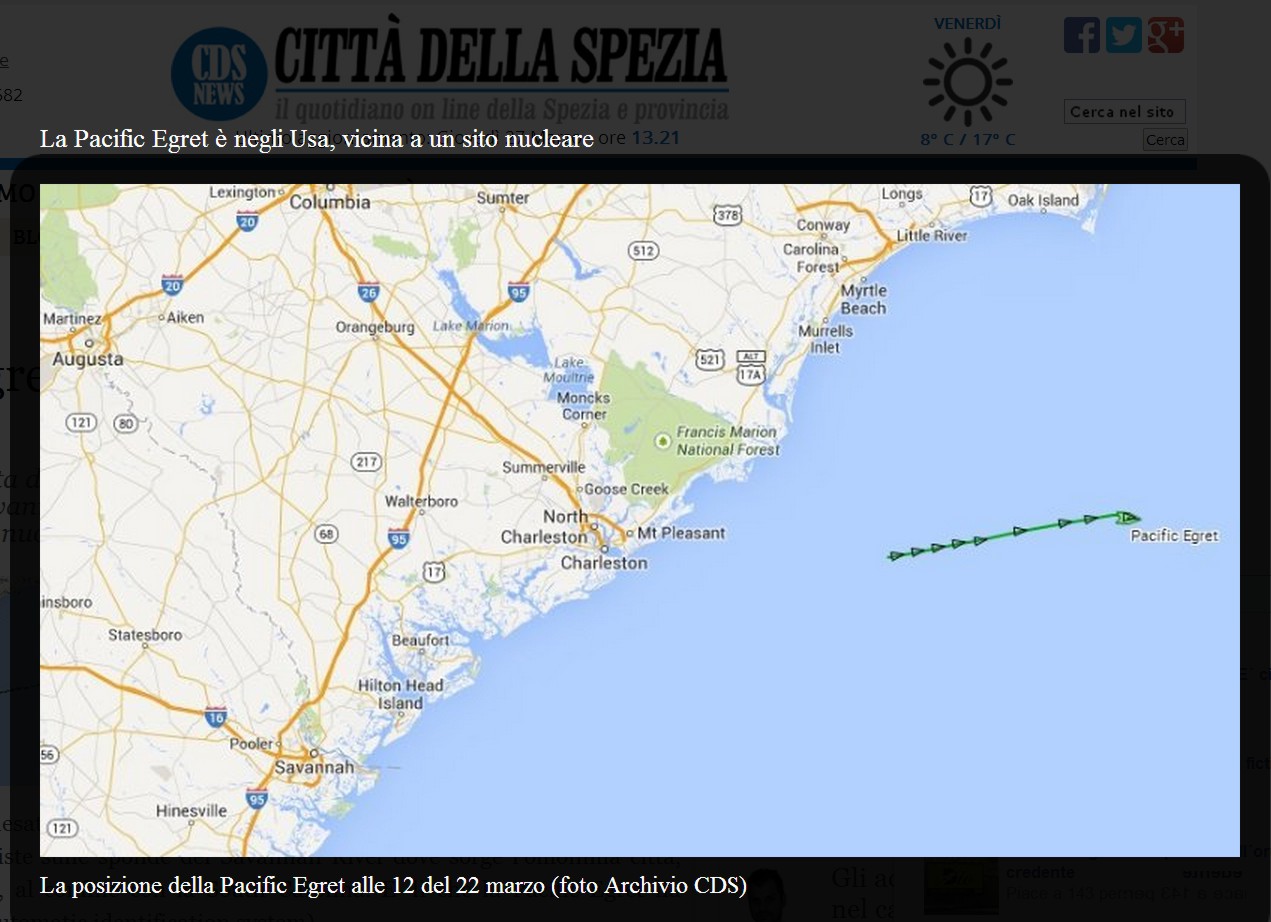 So the "Secret Mission And Mystery Cargo"... with previous publicly reported position had been exiting the Mediterranean at the Strait of Gibraltar almost two weeks earlier on March 7, carrying a delicate nuclear cargo loaded at the La Spezia naval base in northern Italy. According to Italian press another reported position was near the coast of South Carolina directed to Port Wentworth. Then the only source that we have is the Ottawa Citizen that confirmed position in the United States where the nuclear fuel carrier Pacific Egret slipped into the harbour at Charleston, South Carolina, on March 19 and unloaded a top-secret cargo at the port's Naval Weapons Station with the revelation of a new direction: Canada.

And... as the vessel entered the North Atlantic that day, its tracking image vanished from an online marine traffic monitoring system. The ship the size of a football field became all but invisible to unauthorized eyes.