Indian Point nuclear plant, just 50 km from New York. It is not new to accidents. But today, as in countless other circumstances, we read the same press titles and witnessing the manipulation of junkie information.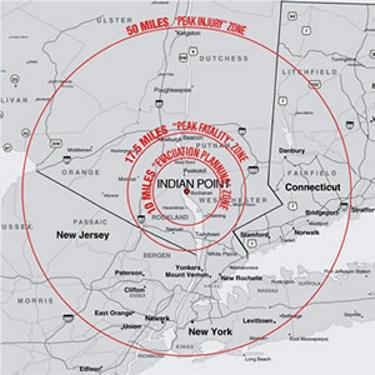 "Only because of a transformer" ... so the national or international media, specialized in domestication, gave news of the fire at Tricastin July 2, 2011 - On Cattenom of 2013 are wasted silences.
But then, if they would wanted to do chronicle ... seriously, they would be forced to talk about that every day, because the accident of Cattenom a few years ago, or Taiwan a few days ago or last Buchanan of Saturday, May 9, 2015 It is only the latest in a series, to say the least, INFINITE.
In the name of "moderation" ..., to always put in evidence the "sans gravité" - always on time specified by the company .... There are evidences of a cover-up strategy adopted by media and governments, whereas it they operate deterministically and notoriously at service of large enterprises of nuclear, oil and coal.

Then... the "sans gravité " or "no radiation leak " or "tiny radiation leak" or the more and more present "no threat to public safety" ... is replaced totally in few hours, or days, by press SILENCE especially when there are deaths occurred as in March 2013 (always at Cattenom).
RNA started in 2009 an intensive investigation on nuclear accidents reported by the press, related both at regional, national and international news.
It was monitored a huge amount of events reported by the news and produced a research collected in fact sheets posted on youtube titled "All the nuclear accidents in 2009, vol. 1," "Vol. 2", "Vol. 3" etc .. . giving strong emphasis to the chronology and sources.
It's necessary, also, to remember that this survey was characterized by rigid decision to publish only sources described as "authoritative", which some consider as "official" or more "reliable", excluding methodologically, at the start, the "blogs" and "personal" web sites that often recycle news from official sources giving to them a garment of exclusivity that does not really exist. Excluding also environmentalist sources to avoid charges of "partisan information" however, were also verified news of ecologist sources using feedback from the press.
A research that has allowed the collection of a huge documentation charge of statistical value where were found periods ranging from one event per day even up to 3 incidents reported by the daily news.
So much that during the voting campaign for the referendum that has prevented Italy's return to nuclear RNA used the projection of these videos during the Chernobyl Day, during meetings and conferences in schools and universities.
All this seemed to end in March 2011, in fact, certain chronicles available very easily until the first two months of 2011 have certainly been obscured, in part, by the Fukushima disaster but, evidently, also due to a new strategy adopted by the media, politicians and governments.
We all know how the mafia of the nuclear lobbies are in a position to exert a violent influence by keeping under constant blackmail politicians and journalists. This is certainly always happened. And with absolute certainty we can say that a lot of information on accidents in the past have been influenced and manipulated until they were also denied completely or played in key encounters and clashes between national and international realities.
Revelations published by The Guardian about cover-up british policy after Fukushima Disaster are emblematic and they should be considered as the normality that characterizes the so-called "market democracy" and not as the "exception".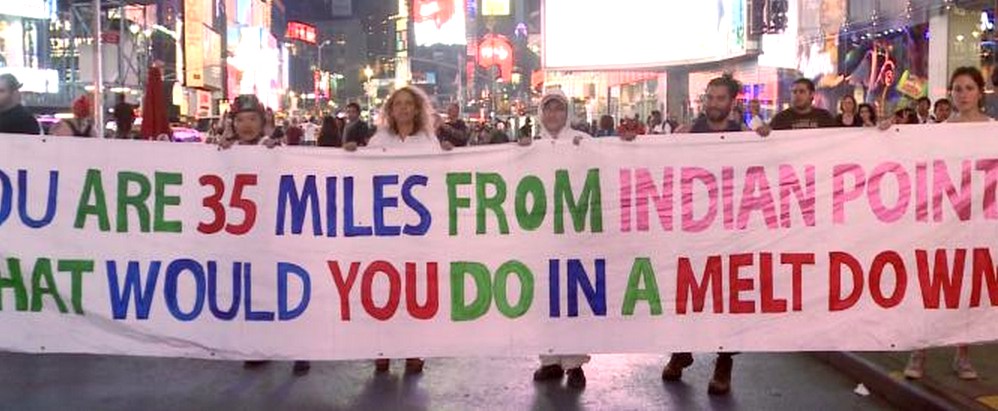 On the last days of june 2011 The Guardian, english newspaper, revealed that British government officials approached nuclear companies to draw up a co-ordinated public relations strategy to play down the Fukushima nuclear accident just two days after the earthquake and tsunami in Japan and before the extent of the radiation leak was known.

Internal emails seen by the Guardian show how the business and energy departments worked closely behind the scenes with the multinational companies EDF Energy, Areva and Westinghouse to try to ensure the accident did not derail their plans for a new generation of nuclear stations in the UK.
In a Guardian article from March 14th, written just three days after the tsunami which caused such widespread devastation and triggered the failures at the Fukushima plant we can read:
"What we are seeing follows a clear pattern of secrecy and denial," said Paul Dorfman, co-secretary to the Committee Examining Radiation Risks from Internal Emitters, a UK government advisory committee disbanded in 2004.

Some months later, end of june, there are only confirmations about this kind of policy that has characterized 3 months of chronicles on Fukushima:

"This has the potential to set the nuclear industry back globally," wrote one official at the Department for Business, Innovation and Skills (BIS), whose name has been redacted. "We need to ensure the anti-nuclear chaps and chapesses do not gain ground on this. We need to occupy the territory and hold it. We really need to show the safety of nuclear."

And the article continued like this:

The business department emailed the nuclear firms and their representative body, the Nuclear Industry Association (NIA), on 13 March, two days after the disaster knocked out nuclear plants and their backup safety systems at Fukushima. The department argued it was not as bad as the "dramatic" TV pictures made it look, even though the consequences of the accident were still unfolding and two major explosions at reactors on the site were yet to happen.

"Radiation released has been controlled – the reactor has been protected," said the BIS official, whose name has been blacked out. "It is all part of the safety systems to control and manage a situation like this."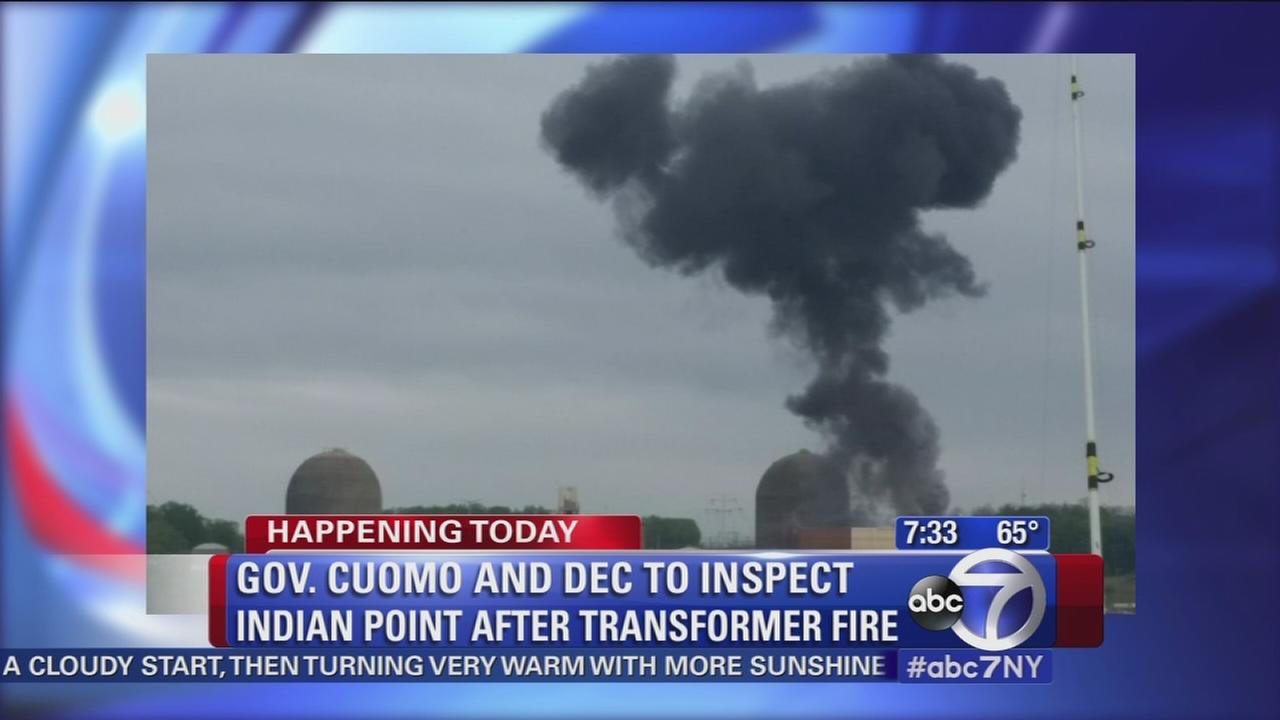 Indian Point: A Timeline of Accidents and Radioactive Leaks and Spills.
Decades of accidentas, radioactive leaks and spills at the Indian Point nuclear power plant have resulted in two extensive plumes of contamination in the groundwater beneath the plant, which leach to the Hudson River. The following is a non-exhaustive list of such incidents, evidencing the ongoing nature of this problem at the aging Indian Point facility:

In 1973, five months after Indian Point 2 opened, the plant was shut down when engineers discovered buckling in the steel liner of the concrete dome in which the nuclear reactor is housed.
On October 17, 1980, 100,000 gallons of Hudson River water leaked into the Indian Point 2 containment building from the fan cooling unit, undetected by a safety device designed to detect hot water. The flooding, covering the first 9 feet of the reactor vessel, was discovered when technicians entered the building. Two pumps which should have removed the water were found to be inoperative. NRC proposed a $2,100,000 fine for the incident.
1988 - March 26 — About 8,400 gallons of radioactive water leaked into the Hudson River from the Indian Point 2 nuclear power plant, the plant's operator said today. The water was discovered missing from a 345,000-gallon storage tank outside the containment structure, said a spokeswoman for Con Edison, Bea Meltzer. The problem was discovered at the plant, 25 miles north of New York City, but officials were unsure how long the water had been leaking. According to the chronicle of the New York Times the leak was of "slightly radioactive water" and "a spokesman for the Nuclear Regulatory Commission, Carl Abraham, said the leak posed no health hazard".
1992: Leak from a water pool housing toxic nuclear waste generated from Indian Point Unit 2 (known as
a "spent fuel pool") was discovered. Also, during the 1990s, Indian Point Unit 1 spent fuel pools were
found to be leaking radioactive water.

In February 2000, Unit 2 experienced a Steam Generator Tube Rupture (SGTR), which allowed a small amount of primary water to leak into the secondary system through one of the steam generators. All four steam generators were subsequently replaced.

In 2005, Entergy workers while digging discovered a small leak in a spent fuel pool. Water containing tritium and strontium-90 was leaking through a crack in the pool building and then finding its way into the nearby Hudson River. Data indicates that leaks had been occurring for years undetected. Entergy attributes a plume of tritium in the groundwater primarily to leaks from the Unit 2 spent fuel pool.
On March 22, 2006 The New York Times also reported finding radioactive nickel-63 and strontium in groundwater on site.
Entergy "discovers" that attempts to prevent additional leaks from Indian Point Unit 1 spent fuel pool fail have failed – water laden with toxic radionuclides including Strontium-90 and Cesium-197 leaks from the pool to the environment at a rate of 70 gallons per day until the end of 2008, when Entergy finally emptied the problematic pool. The contamination plume generated due to upwards of decades of leaks from the Unit 1 spent fuel pools will persist in the environment for centuries, leaching through the groundwater and into the Hudson River.

In 2007, a transformer at Unit 3 caught fire, and the Nuclear Regulatory Commission raised its level of inspections, because the plant had experienced many unplanned shutdowns. According to The New York Times, Indian Point "has a history of transformer problems".

On April 23, 2007, the Nuclear Regulatory Commission fined the owner of the Indian Point nuclear plant $130,000 for failing to meet a deadline for a new emergency siren plan. The 150 sirens at the plant are meant to alert residents within 10 miles to a plant emergency. Since 2008, a Rockland County based private company has taken over responsibility for the infrastructure used to trigger and maintain the ATI siren system. The sirens, once plagued with failures, have functioned nearly flawlessly ever since.
2009: in early 2009, a tank valve located in an Indian Point Unit 1 systems building leaked radioactive water, causing a nearby monitoring well to detect increased radioactivity levels.

2009, February: unmonitored, undetected corrosion in a pipe buried eight feet underground was discovered when a plant worker found himself standing in a puddle of water. About 100,000 gallons of water contaminated with Tritium was released to the already contaminated groundwater. The U.S. Government Accountability Office recently concluded that leaks at nuclear power plants from buried piping systems are expected to continue as such systems , which are largely inaccessible, age and continue to corrode and degrade.

2009, November: radioactive water spills from a storage tank, adding to the existing groundwater contamination. This leak caused various monitoring wells to register increased levels of tritium.

On January 7, 2010, NRC inspectors reported that an estimated 600,000 gallons of mildly radioactive steam was intentionally vented to the atmosphere after an automatic shutdown of Unit 2. After the vent, one of the vent valves unintentionally remained slightly open for two days. The levels of tritium in the steam were within the allowable safety limits defined in NRC standards.
Entergy discovers another new leak in the Unit 2 spent fuel pool. This new leak caused various monitoring wells to register increased levels of tritium. Though Entergy claims that all identified leaks in the Unit 2 pool have been repaired, nearly 40% of the liner of the pool has never been inspected, and Entergy, to this day, concedes that other active leaks from the pool may still be occurring.

On November 7, 2010, an explosion occurred in the main transformer for Indian Point 2, spilling oil into the Hudson River. Entergy later agreed to pay a $1.2 million penalty for the transformer explosion.
2011: In June 2011, monitoring wells near Indian Point Unit 1 detected elevated levels of tritium in the groundwater. However, it took several months for Entergy to even identify the leaking component that caused the increased tritium levels in the groundwater.

On May 9, 2015, again an explosion occurred in a transformer for Indian Point 3, forcing crews to shut down one of the reactors.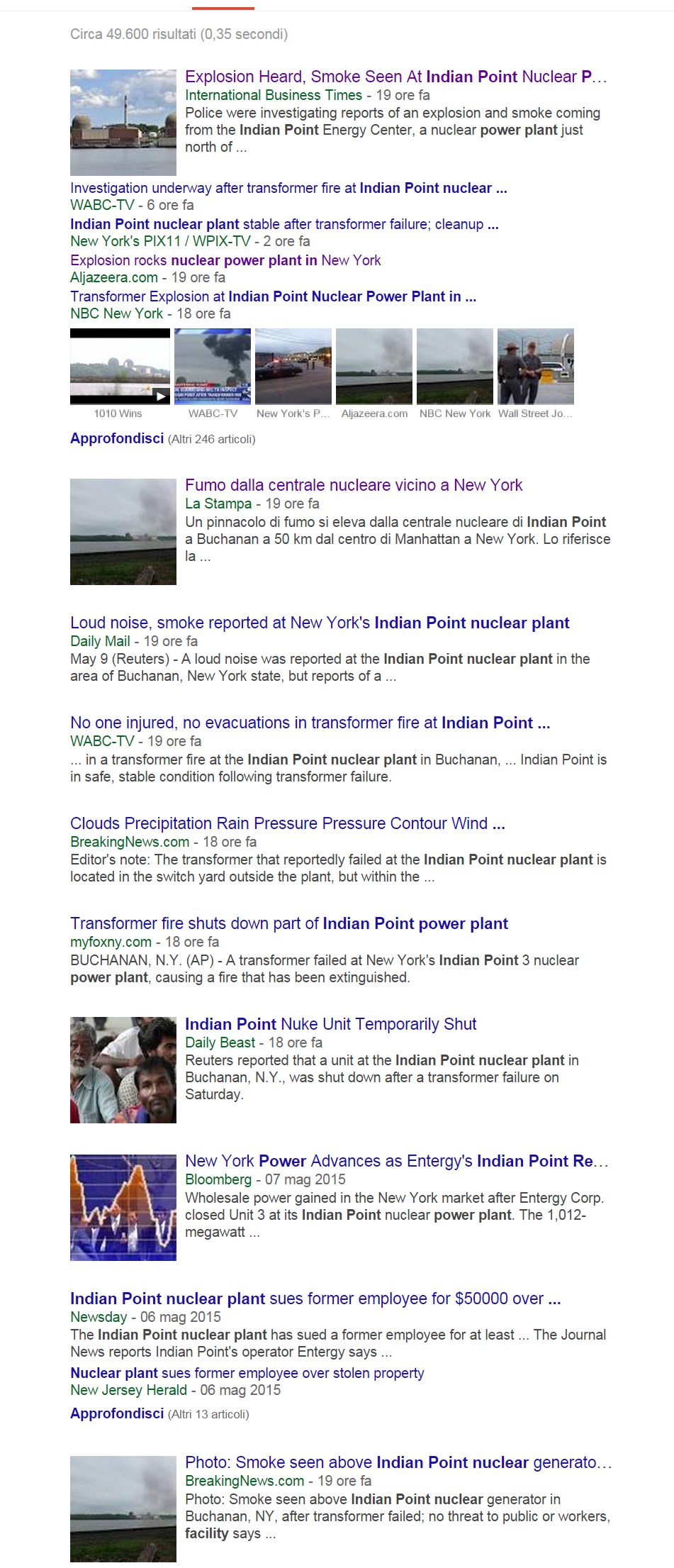 The cover up about Indian Point.

The succession of news happens every day. The silences alternate with press campaigns only to be promptly forgotten, these press campaigns, the day after. There is not a clear logic that some newspapers or television channels remain totally insensitive to certain events while others appear to make a sensational blow, albeit temporary.
In 2013 has exploded a case, ignored by the European press, which in its spectacular affair has found judicial resolution in 2014 and that whenever the press tries to bring out the "no threat to public safety" or the need to preserve the goodness economic needs of a system based on the mafia scam seems to forget about it:
"Indian Point Supervisor Pleads Guilty In Fuel Cover-Up Case". [CBS]

A former supervisor who was accused of trying to cover up fuel contamination at the Indian Point nuclear plant has pleaded guilty to a federal charge.
Daniel Wilson reached a plea agreement under which prosecutors agreed not to seek a sentence longer than six months, the U.S. attorney's office said.
He pleaded guilty Wednesday to violating regulations of the Nuclear Regulatory Commission.
Wilson was chemistry manager at Indian Point in February 2011 when diesel fuel for emergency generators was found to contain excessive particulate matter. The complaint said he faked a test to show the problem had been solved, then lied about it.
[CBS]

"Former Indian Point supervisor Daniel Wilson gets probation in lying case" [Westchester News12]
In October, Wilson pleaded guilty to fabricating records and lying to investigators to make sure the Buchanan plant stayed open. Wilson allegedly lied about test results involving emergency procedures to put the nuclear plant in a better light.

"Ex-supervisor at Indian Point nuclear plant charged with fabricating fuel tests". [NEW YORK DAILY NEWS]

Daniel Wilson, 57, the Westchester County plant's chemistry manager from 2007 to 2012, was charged in Federal Court in White Plains with two counts of violating rules of the Nuclear Regulatory Commission.
The former chemistry manager at the Indian Point nuclear plant in Westchester County allegedly fabricated fuel tests to prevent the facility from being shuttered.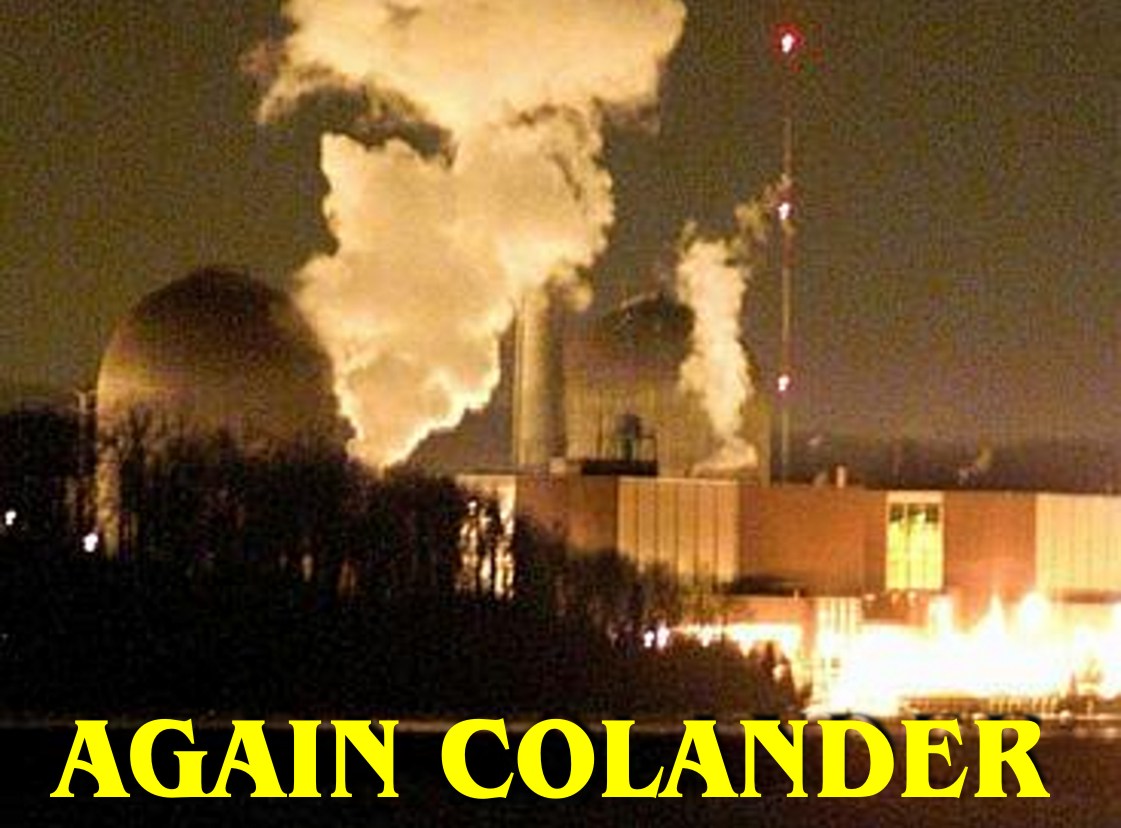 How it ended the legal case of Daniel Wilson?
On the chronicle reported by Bloomberg on January 16, 2014 we can read this excellent end:

U.S. District Judge Nelson Roman in White Plains,
New York, sentenced Wilson today and fined him $500.
"Wilson pleaded guilty in October to a count of engaging in deliberate misconduct in connection with a matter regulated by the Nuclear Regulatory Commission.
Wilson, a supervisor at the facility from 2007 to 2012 and an employee there for at least 30 years, fabricated records to conceal a regulatory violation so the plant in Buchanan, New York, about 38 miles (61 kilometers) north of New York City, wouldn't have to shut down, prosecutors in the office of Manhattan U.S. Attorney Preet Bharara said.
In advance of an inspection by the commission, plant officials conducted tests and determined that the fuel supply of the facility's emergency generators contained too much particulate matter, in violation of federal regulations", the U.S. said..
"Wilson's criminal conduct includes lying about Indian Point's emergency generators' fuel supply and then attempting to cover up his lies," Assistant U.S. Attorney Benjamin Allee said. "In light of the grave urgency attendant both to Indian Point's proper functioning during emergencies and its compliance and forthrightness with the NRC, Wilson's criminal conduct is troubling."
So, an authentic cover up operation that ends with a simple fine of $ 500. And no one can imagine how many other things did not come out.
We just have only to imagine, logically, a fact: that Mr. Wilson did not operate alone and on his own initiative. His personal position had only intended to cover corporate decisions, they had to find a scapegoat to feed the press and the authorities in order to perpetuate the accumulative process at any cost. All the rest are just insipid things of the little theater of the... "Société du Spectacle"...
Massimo Greco - RNA - Italy

__________________________________________________________________________________________
More info about Entergy, international cover up policies and sources about the last accident.
Role of MAFIA of enterprises on Climate Change and Renewable Energy. Everything is connected, not because some ufological "conspiracy"... but, simply, because that is the nature of the "democracy of the market" in the capitalism.

Despite the company's admission that "climate change is happening, it is caused in large part by human activity", Entergy continues to be one of the United States' largest polluters while operating several coal-fired plants, arguably the largest contributor to global climate change.

In 2007, Entergy joined forces with Southern Company, the nation's third largest emitter, to fight a federal Renewable Portfolio Standard, which would have mandated that all utilities get at least 15% of their power from renewable sources by 2020.

Seven years later, Entergy sought to enforce a de facto solar tax on Louisianans in 2014 by preventing those with solar power from receiving full value for the excess power they return to the grid.

In 2015, Entergy publicly condemned the EPA's Clean Power Plan, which would require Mississippi to cut carbon dioxide emissions 38% by 2030.
Unlike the New Orleans City Council, which banned Entergy's PAC from donating politically in 2007, the Louisiana Public Service Commission accepts the company's money. This means Entergy is at once the entity that appears before the regulatory commission the most and its biggest political contributor. In a 2014 election, Eric Skrmetta, an incumbent commissioner and longtime recipient of Entergy money, narrowly prevailed over renewable energy proponent Forest Wright in a runoff.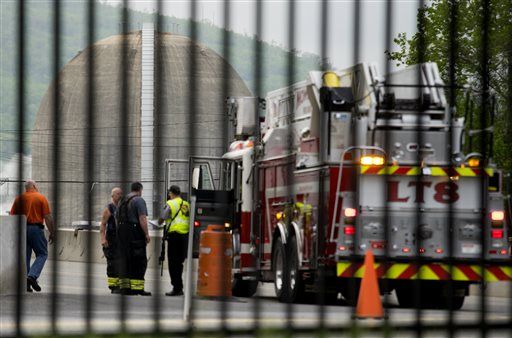 New York State Troopers stand at the main entrance of the Indian Point nuclear power plant Saturday May 9, 2015, after a transformer failed at New York's Indian Point 3 nuclear power plant, causing a fire that has been extinguished in Buchanan, N.Y. A spokesman for Entergy says the unit has shut down automatically and is safe and stable. (AP Photo/Craig Ruttle)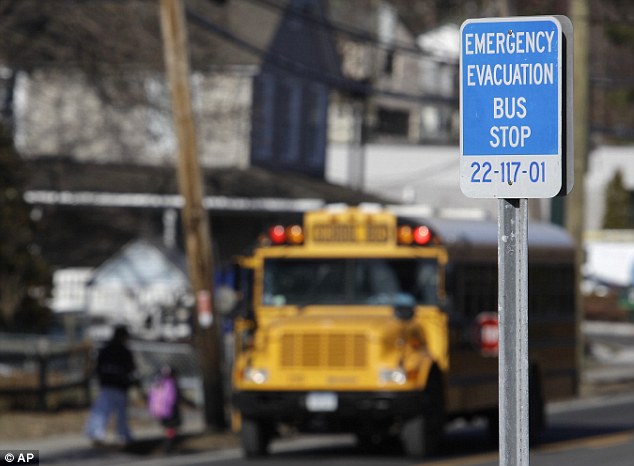 Ancient evacuation plans: A sign along Route 9 in Ossining, NY, marks the spot for an emergency bus stop that is part of the Indian Point nuclear plant evacuation plan
[AP photo - diffused by dailymail.co.uk]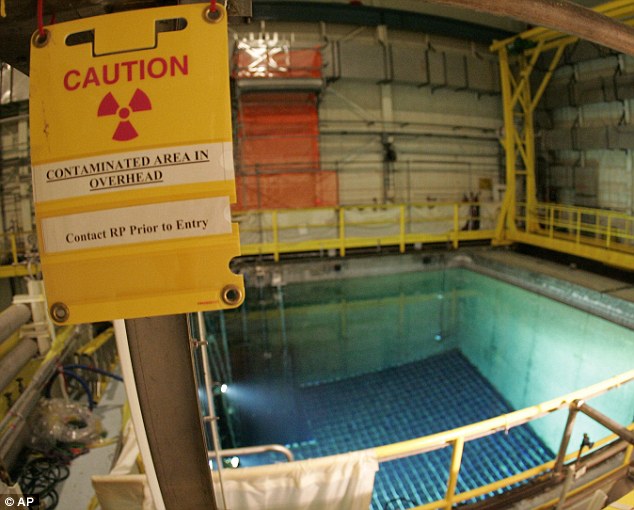 Warning: Because the federal government has failed to find a location for permanent storage of spent fuel, many tons of highly radioactive used reactor rods are kept in pools inside reactor containment buildings like this one at Indian Point.
[AP photo - diffused by dailymail.co.uk]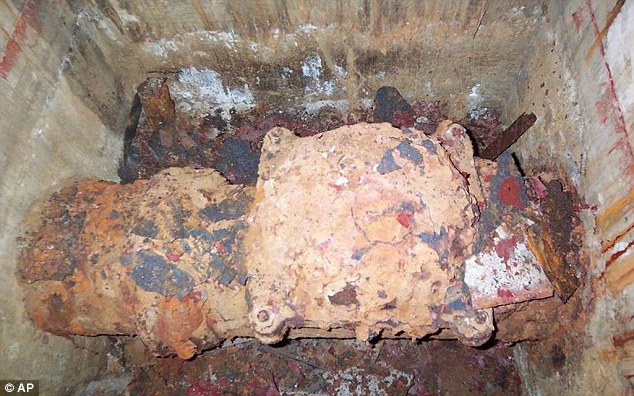 Safe? A badly rusted valve at the closed Indian Point 1 nuclear plant in New York state. The pipe was part of a containment spraying system that was initially a focus of concern as workers tried to find the source of leaks at the site
[AP photo - diffused by dailymail.co.uk]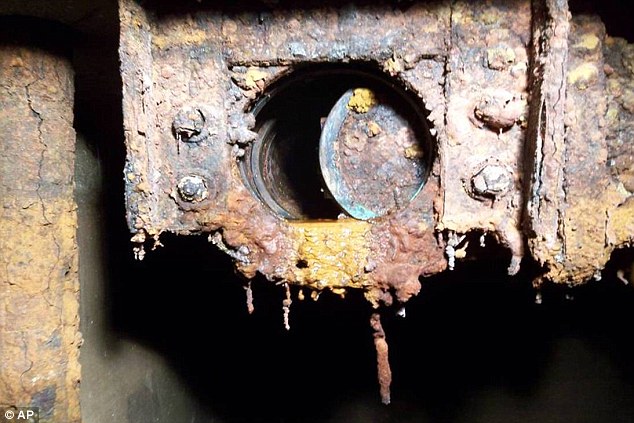 Rusted valve Indian Point: The leakage was eventually traced to spent fuel pools. The reactor had been shut down since 1974
[AP photo - diffused by dailymail.co.uk]
Other related sources:

Revealed: British government's plan to play down Fukushima [The Guardian]
Internal emails seen by Guardian show PR campaign was launched to protect UK nuclear plans after tsunami in Japan.
"This has the potential to set the nuclear industry back globally," wrote one official at the Department for Business, Innovation and Skills (BIS), whose name has been redacted. "We need to ensure the anti-nuclear chaps and chapesses do not gain ground on this. We need to occupy the territory and hold it. We really need to show the safety of nuclear."

Officials stressed the importance of preventing the incident from undermining public support for nuclear power.

Japan radiation leaks feared as nuclear experts point to possible cover-up [The Guardian - March 14, 2011]
Lack of radiation readings echoes pattern of secrecy employed after other major accidents such as Chernobyl.
The country's government has previously been accused of covering up nuclear accidents and hampering the development of alternative energy.

In a newly released diplomatic cable obtained by WikiLeaks, politician Taro Kono, a high-profile member of Japan's lower house, tells US diplomats that the Ministry of Economy, Trade and Industry – the Japanese government department responsible for nuclear energy – has been "covering up nuclear accidents and obscuring the true costs and problems associated with the nuclear industry".


Indian Point supervisor arrested for deliberately falsifying critical safety records [Enformable - July 24 2013]
Entergy announced on Tuesday that a former supervisor, who worked at the Indian Point nuclear power plant north of New York City for twenty-nine years, had been arrested for deliberately falsifying critical safety records and lying to federal regulators last year. The utility said that Daniel Wilson, age 57, who was in charge of ensuring compliance in critical safety areas, falsified tests and records related to the quality of fuel in back-up tanks for the emergency diesel generators installed at the nuclear power plant which are necessary to prevent core damage in the event of a loss of power. Federal charges have been brought against the former employee by the U.S. Attorney's Office, who was released on bail and could be sentenced up to 7 years in prison..

Fire Prompts Renewed Calls to Close the Indian Point Nuclear Plant [The New York Times - May 12, 2015]

The possibility that the episode at Indian Point on Saturday caused significant harm to the environment fueled the opposition from several of the plant's critics, including officials from the environmental group Riverkeeper and Gov. Andrew M. Cuomo. Mr. Cuomo, a Democrat, has pressed for a permanent shutdown of Indian Point, and appeared there on Saturday night and again on Sunday.

He said the fire, while it posed no threat to the surrounding population, was a reminder that it was "inherently problematic" to have a nuclear power plant on the edge of the largest metropolitan area in the country.
__________________________________________________________________

_____
about RNA: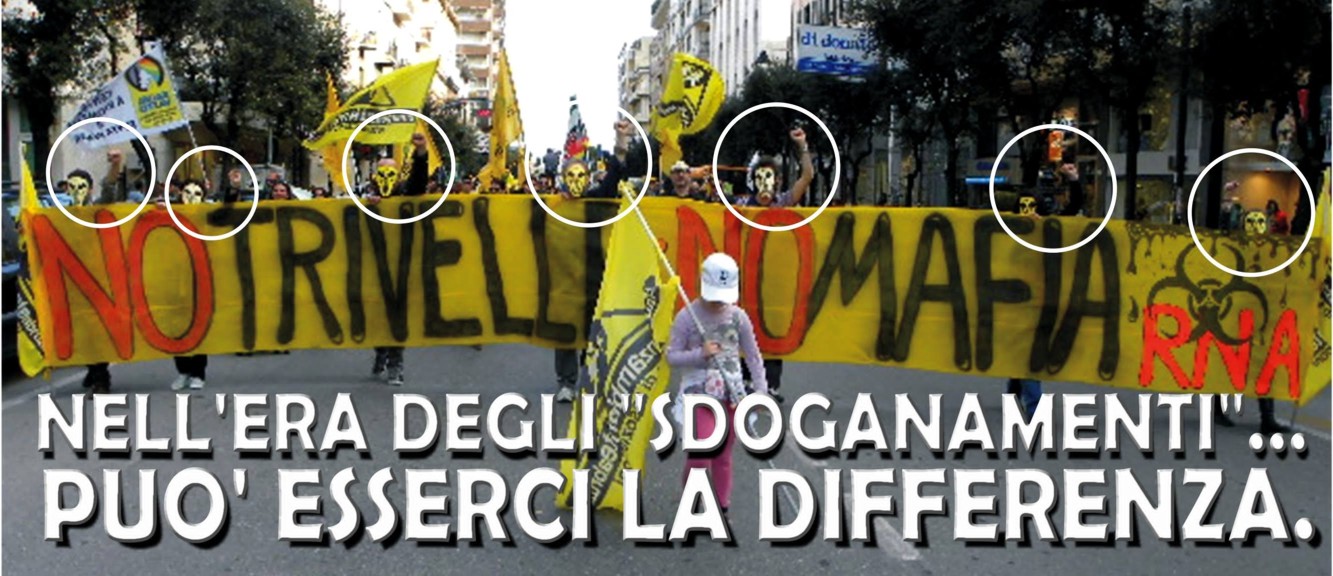 ★ RNA È l'UNICA realtà che coniuga resistenza ambientalista Contro le produttività NOCIVE con la messa in discussione del modello di produzione borghese e dei rapporti di forza Capitale-Salario. ★ Dal 24 Settembre 2009: Questo è il taglio e la motivazione RIGIDA e COERENTE che DETERMINA ogni nostra "AZIONE", scelta di Priorità, pubblicazione, "condivisione" o presa di posizione.